AmandaJoCrafts
very generously featured my shop on her blog yesterday! A fellow etsian, Amanda did an amazing job and I was sooo excited when I saw this! She also has a pretty adorable shop of her own that you should definitely check out
here
. Please visit her
blog
and
shop
in an effort to support those who support others! Thanks Amanda!! :-)
Here is the feature:
On ChatterBlossom
Today, I hung out (online, of course. The World Wide Web is a magical creation.) with Jamie Lee, owner of one of my new favorite Etsy shops:
ChatterBlossom
. She sells accessories for weddings and other special occasions. Her wedding fascinators are fresh and plucky, and her upcycled bows and bobby pins are vintage chic.
Opened recently (May 22 of this year), ChatterBlossom already has a strong sense of shop style. So many new Etsy sellers have trouble at first with creating a coherent, professional look to her shop. Jamie, however, brushed off my compliment and said: "I really tried to make the best of what I have. I don't have a studio, an amazing camera, or even a model. I just try to take clear photos without too much fluff. And I spend HOURS trying to take the photos of the pieces in my own hair. Just set timer, run, repeat!"
What first really struck me about Jamie's shop is how much she
knows
about her creations; she doesn't just tell you what they are and how they were made, she tells you who
you
are if you like that piece. Her favorite piece is the "Let's Fall in Love" fascinator, which is also a great example of what I'm talking about: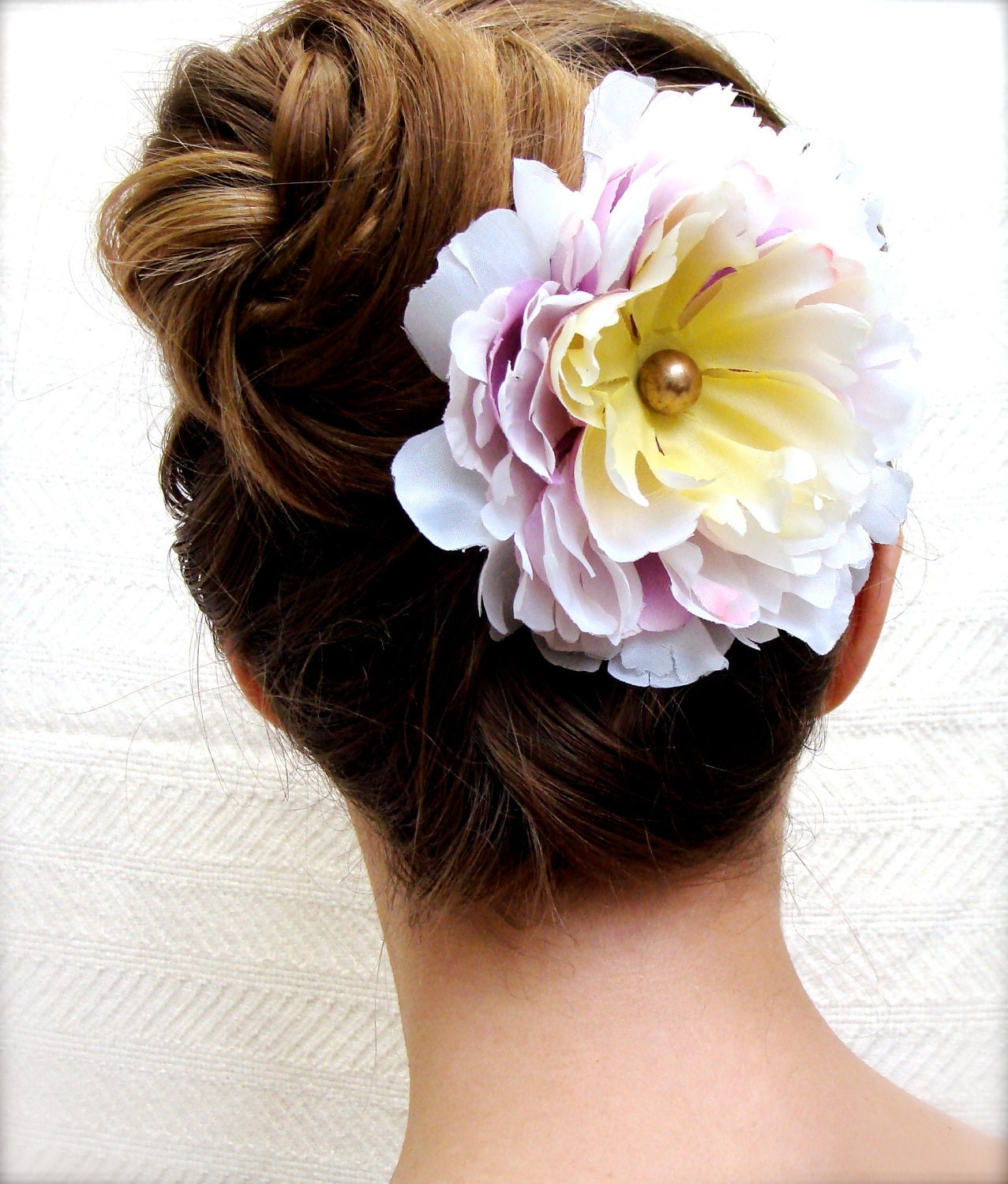 I don't just get to read about what it looks like (in beautiful, yet succinct, detail–I should be taking notes from her!), but I also get the following:
Personalities: The Dreamy and Affectionate
Places you'll find yourself: Moonlit, romantic walks along hidden woodland trails
What a unique way to describe a piece! And the most beautiful part is, I can see it. It's a dreamy, ethereal world full of delicious nature surprises budding around every corner. It makes me desperately want to be wearing that fascinator in the woodland trails with my fiance, relishing in the intimacy of the moonlight. In two lines, she has painted that complete picture for me.
Her favorite item to make in her shop is her "Golden Buttons" bobby pins: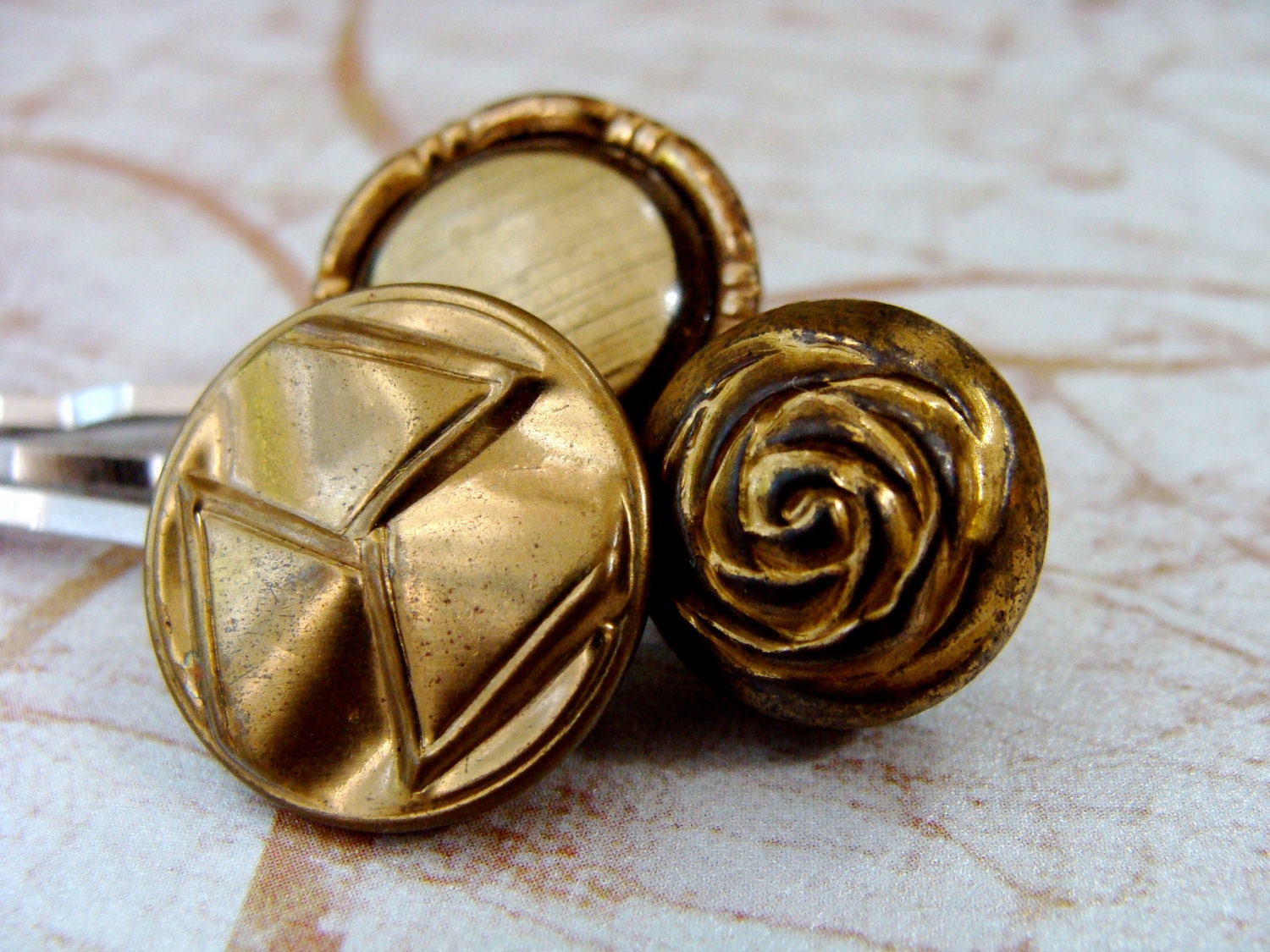 When I asked why, she told me "I love to hunt for them and find a little work of art each time. Pairing them with other treasured buttons is liking reuniting old friends." The buttons do look like old friends; although they're all found different places, the combinations posted really seem as though they were meant to be together.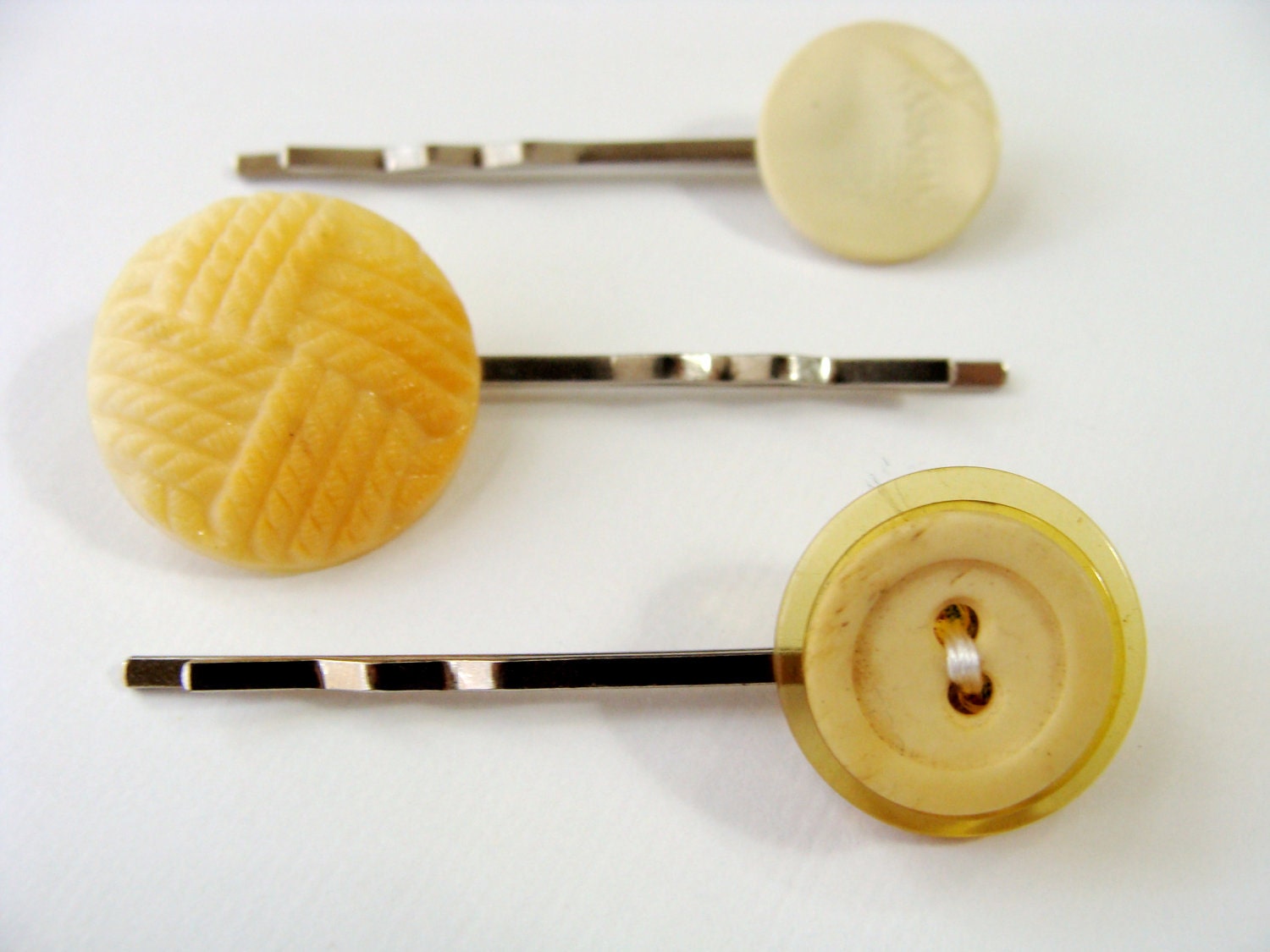 She obviously takes pride in her work product, and rightly so. Even though she claims she's an amateur photographer, her photos do a great job of giving value to her piece, and I think we're all getting a huge bargain. But, she has different aspirations. Although she would like to have steady, consistent sales, and is building her stock steadily toward that goal, mostly "I would just like to know there are fun, beautiful women walking around with my fascinators in their hair."
I can tell you, with absolute certainty, that I will be one of those women!
Before I let her get back to her shop, I asked her one more question: what is her Etsy weakness? (All Etsy sellers have one; we spend way too much time building networks on that site not to fall in love with something: a style, product, or genre.) Hers, hands down, is vintage clothing. (I'm with her.) "I heart vintage hats, dresses, and shoes like it's going out of style (and coming back in again!

)"
You can find ChatterBlossom
right here
on Etsy. And, if you think Jamie is pretty cool too, you should definitely check out her
blog
, as well. I'm a follower!