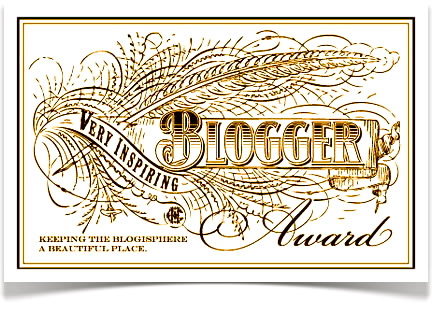 I was awarded the "Very Inspiring Blogger Award"!! How wonderful to be given an award for keeping the blogosphere a beautiful place.
This award was given to my blog by another lovely blogger, Caroline from
The Girl in the Yellow Dress
. She just had her 100th postiversary on her blog and you should definitely go give her some love!
There are rules that go along with this award so that it continues to support active bloggers. The rules of this award are as follows:
1. Display the award certificate on your website.
2. Announce your win with a post and include a link to whoever presented your award.
3. Present 7 awards to deserving bloggers. Create a post linking to them and drop them a comment to tip them off.
4. Post 7 interesting facts about yourself.
Seven Interesting Insights into my Life:
- I love to sing and always have, but am ABSURDLY riddled with stage fright
- I love to try crazy foods and have eaten snails, octopus, crickets, kidneys, pig face, etc.
- I worked on an organic farm for a year (best year ever)
- I married my high school sweetheart (sigh)
- I've been hit by a car not once, but three times
- Two of my biggest fears are bears and sharks (in that order)
- I have my great grandfather's cast iron and solid wood barber chair from 1909 in my living room
I really appreciated receiving this award and am excited to pass it along to some wonderful bloggers that deserve some love and support.
Bloggers that I'm giving this award to: