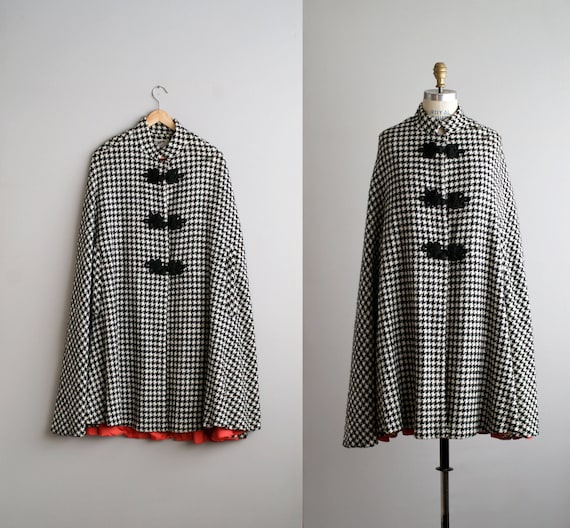 I know, I know, it's just now toasty warm outside. Why on Earth am I doing a winter time snag?! Well, because it's the perfect time to find some great deals on coats and winter gear now that the hungry shoppers have forgotten all about these pieces for swimsuits and sunglasses.
I snatched up this whimsical piece from
Vacation Vintage
. Truth be told, I was a little gun shy with this piece. It is a 1960s cape. A cape, you say?! Yes! I have never dreamed of owning a cape before and something about this one seemed like someone should be wearing it in a murder mystery set in Scotland. I'm usually pretty practical and when I saw this I thought, "Can I really get away with this?". And then the part of me I like screamed, "Who the hell cares!".
The cape is a classic houndstooth pattern in black and white. I wish it were wool, but I believe it's a man-made mix (alas, the 60's). The collar is a crisp mandarin with three giant black frog closures down the center. Best part? It's lined in red! How fun is that?! Am I totally going to be swishing my cape open to reveal that vampy piece of Dracula nonsense? You better believe it! I just need a pair of longer vintage black gloves, so that my arms don't get cold when I reach out my hand for passersby to kiss in admiration of my killer cape.
For now though, this beauty will be tucked away in the cedar chest until my dear Frost shows his face again...