Sweet and sophisticated is on our Thursday Thrill agenda today. Last week, we had an eye-popping red bouffant bombshell, but today's thrill is more demure.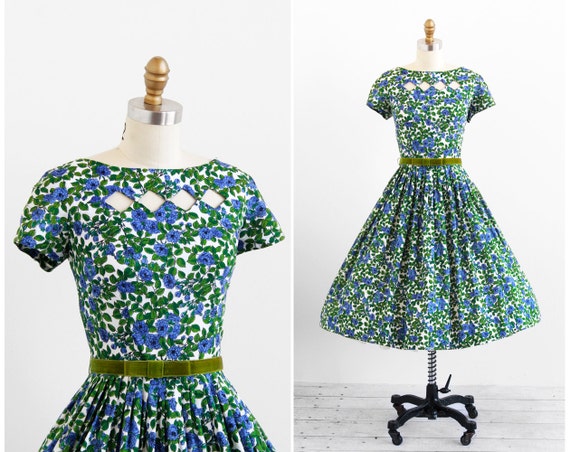 To me, these pieces say, "that girl has her life together and a good head on her shoulders, but gosh darn she's cute to boot!". Look at the delicate diamond cut-outs on the neckline of this 1950's floral dress. So tasteful, but fun and flirty at the same time!
The shoes are a rare find as they are in nearly pristine condition. They were owned by an obviously very tasteful lady near the Biltmore House in Asheville, North Carolina before making their way into the hands of PosiesForLulu on Etsy.
And I think I knew as soon as I saw this dress that my magnolia fascinator was the perfect accessory choice! "You Call Everybody Darlin'" has a vintage gold earring upcycled into the centerpiece of this ivory hair flower and I think it just speaks to the gentility of the whole outfit. How charming would a girl look pulling out a cute compact from a little handbag to freshen up before heading out into the wide world.