Ladies, it's time for a lovely little giveaway!!
I held my very first giveaway a couple of months ago and it was so much fun! If you remember, one lucky winner snagged a beautiful hand-bound vintage journal. Well, today, you can put your name in the hat for another delightful paper creation! Debra, owner and artist of
Debra Lynn Mejia Illustration and Design
, has very generously decided to give away one of her creations!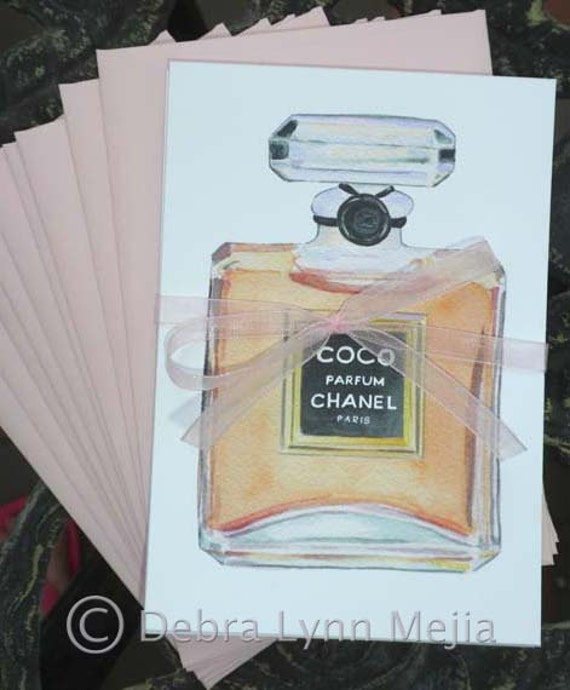 Debra creates watercolor portraits of some of the most iconic fragrances, including Coco from Chanel, Daisy from Marc Jacobs, and J'adore from Dior. These well loved and classic labels have come to represent elegance, romance, and intoxicating love for women around the world. Debra has decided to give away to one of you lovelies, a set of notecards taken from her
original watercolor of Coco Chanel
! And what's great about this (besides the fact that it's beautiful) is her handpainted design would be the perfect way to send your most loved a written note for Valentine's Day! If chosen, you will receive a set of
10 notecards of Coco Chanel
along with coordinating "pink lemonade" envelopes. Perfect chance to send a little of the written word to those you love!
And as if this weren't enough, I'm giving away one 200x200 featured ad space on my sidebar for the month just as an extra Valentine bonus!
************************************************************************
This giveaway will only be open for one week, so get your entries in now! The contest is open to international entries too! Yay! A winner will be announced on Monday, Feb. 11th. Good luck!

If you have any questions or something is confusing or doesn't work for you on upon entering, don't hesitate to ask for help! Just let me know, and I will be more than happy to walk you through the process. :-)

The first three entries are mandatory. Once those are complete, a list of bonus entries will appear if you want extra chances to win!
*****************************************************************************
a Rafflecopter giveaway