As the fall weather takes hold and the leaves are just now turning and floating their way to earth, a cool headed reserve creeps in and I start feeling a bit private. Private eye, that is. As I type this, I'm listening to Frank Sinatra and raising my eyebrows as if to question the motives of people that aren't in the room with me. Crazy? Maybe. Fun? Yes.
Now just imagine if I had this outfit. I could do all kinds of sneaky things and people would follow me with their eyes wondering what fantastic cases I'm solving at this very moment. I would just tip a corner of my hat in their direction to let them know I know what they're thinking and that they are right. I do solve fantastic cases. And I look damn sexy doing it!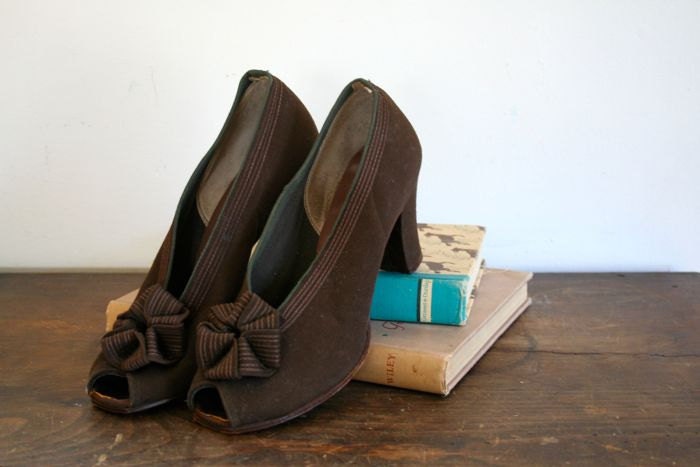 Perfect for fall investigative detecting or just for looking amazing next to that poster of Sherlock that has been plastered onto the train station wall, this 1940's cashmere dress can do the talking for you. And is that a beaver fur collar? Why yes, yes it is.
To add just a bit of flirt to this vintage dress,
let's add a pair of 1930's shoes in brown twill with a ribbon accent and stacked heels. Slip on a gold geometric rose ring made with a vintage button and your day time adventure begins. The only thing left to do is put a dab of an intoxicating aroma at your neckline, so that memory of jasmine, myrtle, and mystery are the only things left on the minds of people you meet.