Today, I get to introduce you to two snags! My snag of a pretty dapper hubby (snagged him up early!) and my newest snag of a beautiful pair of 1950's Enna Jettick pumps! These photos were quickly snapped by my sis right before going out to a fancy dinner. Weirdly, my shoes were cut off in all the photos but one and it was really grainy, so my apologizes for the disjointed photo shoot.
The dress in this shot is also 1950's and is gorgeous!! I found this in a vintage shop in Virginia hiding humbly between uber loud 80's pieces. This little black number fit perfect and has no embellishment but its fantastic tailored shape and off the shoulder straps.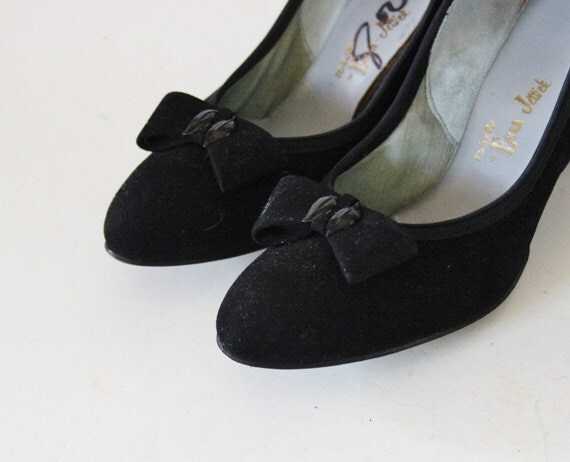 The shoes, from
Blue Butterfly Vintage
, are a soft black, low heeled pump with bow details clipped with double leaves. This is the first pair of vintage shoes that I have ever bought! I already had reproduction pairs, but no actual vintage.
I kept the accessories at a minimal with a pair of 60's drop earrings.
Last Chance to Enter this Week's Giveaway: