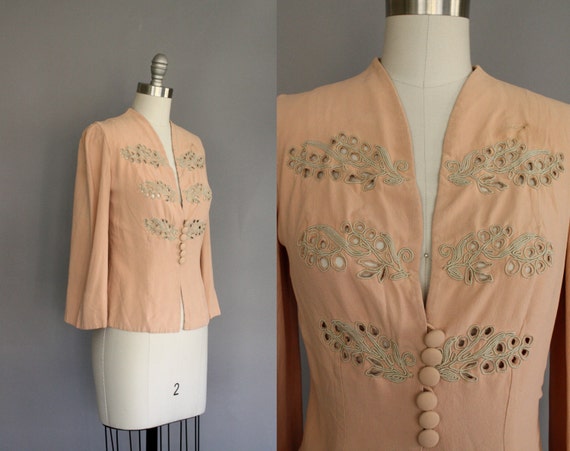 Super thrilled with this snag guys!! Actually, I'm quite thrilled with the next couple of snags coming soon too! This gorgeous 1940's over blouse jacket has beautiful little cut outs that peek-a-boo from embroidered detailing. The tailoring is impecable and the little fabric covered buttons are placed in such a flattering position directly below the bust of a deep vee collar. I snagged this treasure from
Anatomy Vintage
, the owner of which is so kind and friendly!
The color looks peachy apricot in the shop photo but is actually more of a blush nude/pink. As soon as I got this in the mail (yesterday!), I immediately threw it on and ran out the door to snap a photo in the sunlight. When I say immediately, I mean I still have a towel on my head from getting out of the shower and white socks with tennis shoes hastily pulled on with my shirt and skirt combo. My neighbors think I'm nuts.
The photos below are from that quick shoot. Hence, there are only close up shots since my arm is only so long and you wouldn't want to see the ridiculousness of my full outfit!
Isn't it pretty?!!!! It is a light rayon and the sleeves are loose. There were moth holes and a small chemical stain, but I think I might shorten the sleeves just enough to get some fabric to patch the holes. As for the stain, it is primely placed in a position that can be covered with a brooch. Alterations and brooch hunt will now commence!