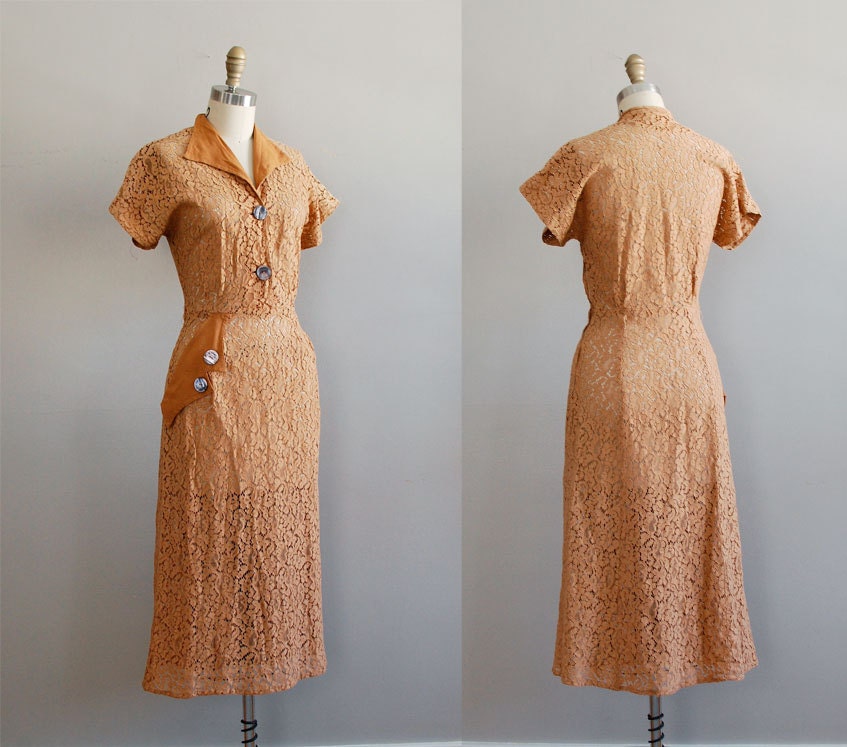 I am introducing a new weekly blog post today. I'm calling it Thursday Thrill and will feature an item that I would LOVE to have and something from my shop with which to accessorize it. Truth be told, I'm doing this for my own thrill really. I'm not what people would refer to as "wealthy". Okay, I'm broke. But this is why I'm implementing Thursday Thrill! That way it feels like I somehow have shared something that I'm daydreaming and pining over and you all can share with (read: console & pity) me.
This first installment of Thursday Thrill features a dress from Dear Golden that inspired this whole idea of a blog post for stuff I adore and desperately desire. This gorgeous, vintage 1940's lace dress is calling my name people! Look at the detail on the hip!
I'm a swing, lindy, balboa, and blues dancing fanatic and this dress would be THE BEST balboa dance dress EVER. I already have vintage reproduction heels in cognac brown from remix and my feather fascinator would be sooo fun with this! If I didn't want quite as much drama (as if), I could always pair it with my brown sugar button bobby pins as well.
Here are the links for the featured items:
-
Dress
-
Shoes
-
Feather Fascinator
-
Button Bobby Pins