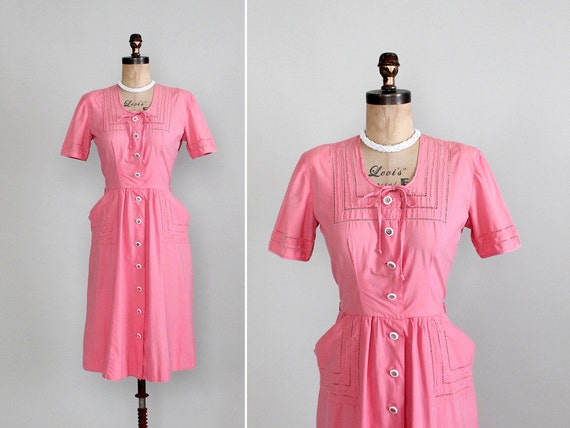 BEHOLD!!
The Easter basket miracle!!
This lovely pink dream arrived at my doorstep this week as my spring gift to myself. Isn't is darling?!!
Raleigh Vintage
, whose owners Andi and Isaac are too nice for words, is where I managed to snag this beauty. I think it had only just been listed in their Etsy shop and maybe had 6 views before I sprinted to the "Add to Cart" button!
This lightweight cotton day dress is from the late 1940s/early 1950s, has a beautiful little scoop neckline, tiny detailed edge accents and eyelets, and is in the cutest bubblegum pink. There are big side pockets and matching white and gold buttons all the way down the front. It is missing its original belt but still has its original shoulder pads (which I love!). I just need to find myself a period belt and maybe take in the bust a skosh, but otherwise this beauty is ready to go!