Do you ever have those days where you walk outside, take a deep breath, and just want to twirl? No? Well, I may just be weird like that...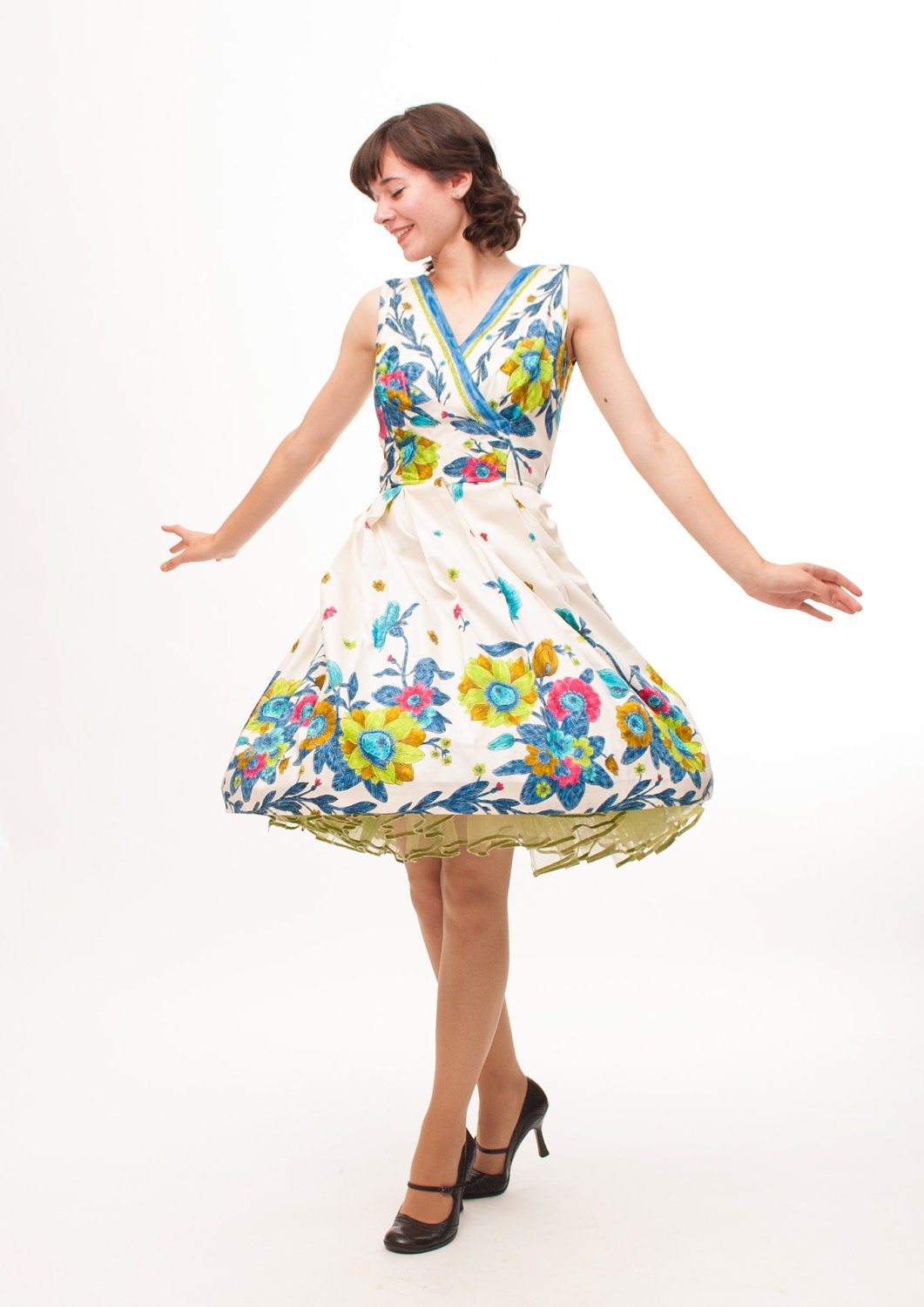 I think it may be the crisp air of fall. Not too hot and not too cold. Perfect. Yesterday, here in North Carolina, it was 78 degrees! Makes you feel alive and like you can finally breathe. I usually am in need of a small hill that I can run up and spin around and then fall to the ground exhausted. This is what I do with my time ya'll. "Ol' crazy pants next door is twirling outside again Marge." That's what my neighbors are probably saying most days.
I came across this dress from Concetta's Closet and thought to myself, "This girl needs a hill!". Maybe not with the stilettos, but you can always fling those aside and run barefoot. That sounds better anyway. This 1950's floral dress has such a flattering combo of vee-neck, high wide waist band, and splashes of vibrant color. The print is big but not too big. The colors pop, but aren't obnoxious. The dress is kinda like my description of the fall season at this point. A Goldilocks effect of being "just right". AND it twirls ladies! That green crinoline peeking out from under her skirt isn't included but you know I would be wearing one. Either the peridot green or perhaps a bright fuchsia!
Because stilettos will tend to be non-hill climbing material, I found these adorable vintage leather shoes with a low full heel and cut out polka dots. And to keep those stray bouncy curls out of your eyes while twirling, my vintage button hair pins in turquoise blue are just the ticket! Each of those buttons are a slightly different ocean blue color so it would play up all the subtle color differences in the dress. Grab a 50's style cardigan just in case the air turns cool and head out the door for some frolicking in the afternoon sunshine!
Featured Items: