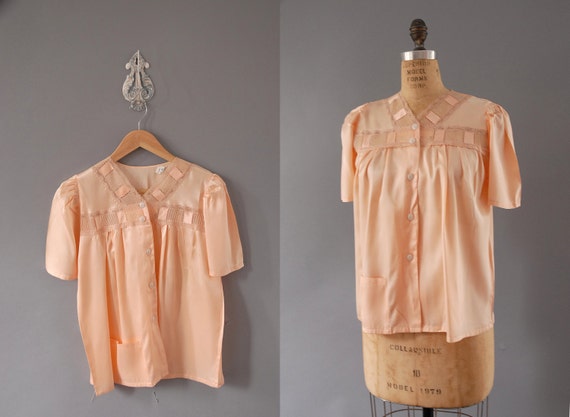 This was an unusual purchase for me. I have never owned a vintage undergarment, slip, pj's, etc. (now I have two!). This was my first dive into that world of which I know very little about. I knew I wanted a slip (more on that in a future post), but I came across this lounge top and thought, "Yes, I will take that, please." I think it was the peachy color and the silky look. It seemed like a small luxury that I could A. afford and B. get out of sweats for. Ladies back in the day seemed pretty classy even in pj's and I wanted to give that a try.
I purchased this beautiful 1930's pajama top from
The Slipperie
(there are so many pieces I wanted from that little shop! Especially a few pairs of tap shorts/knickers...someday). It is made from rayon so it is slick and shiny and has square patterned lace around the neck and across the bust. There was some minor foxing (a term I didn't know until recently meaning small rust stains or oxidation), but I didn't mind. It is over 70 years old after all!
I actually might wear this as a top. It is loose and blousey and might work well tucked into high waist pants, jeans, and pencil skirts. A bit daring for the 1930s, but would be rather cute today!